Any tips for flying with kids?
I have to bring my two children on a coast-to-coast airplane adventure — this will be their first time flying. Do you have any tips and advice on how to keep them occupied and quiet (well-behaved) for the long haul?
---
Flying with children — especially young children — can be a trying experience for them, for you… and for the other passengers, too. You may not be able to keep things quiet and happy the entire time, but there are some things you can to do make things go as smoothly as possible.
5 things to consider before you take off
1. Fly by night
If you have a long way to go, get an overnight flight if at all possible. Even though the first airplane ride of their lives will be exciting for them, children tire out fast when it gets late.
Onboard a plane at night, the lights are all dimmed, and the windows shades are mostly drawn. This provides the right atmosphere for sleepy kids.
To help make them comfortable for their onboard slumber, bring along a favorite blanket (small of course) and pillow (again, small), as well as a favorite stuffed animal. If they are used to a bedtime story, bring their favorite book to help lull them to sleep.
Of course, not all people suggest night flying, but I have had nothing but good luck with it, personally.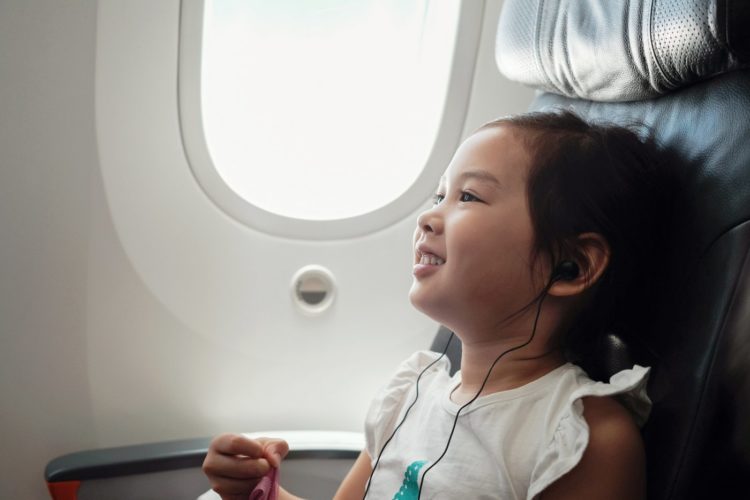 2. Get comfortable
For a flight of this duration, make sure your child is dressed comfortably. While this may seem like a small detail, it is one that can make or break the experience. Layer their clothing so you can add or take away for comfort.
It is also a good idea to dress in the same colors as your children so you and they can be more quickly identified as being part of a group, in case your child wanders away from you. (This can happen more easily than you'd think.)
Also bring along any special comforts you can — think blankets, soft toys, slippers, inflatable neck pillows. If your child is at all prone to motion sickness, have some medication or remedies on hand to help out with that.
3. Let 'em burn off some steam
While waiting at the airport to board your flight, allow your kids to work out their energy. This is not to suggest that you should let them run wild and free, but do allow them to move around rather than just sit and wait.
They're about to get on an airplane and will have to sit in a confined space for hours, so making them do so while waiting to board is just a bad idea overall. Walk up and down the concourse, maybe even play a counting game: how many bathrooms they see, or how many children, or even how many black wheelie bags they see.
Make sure they understand that when they're on the plane, they are going to have to stay in their seats.
4. Keep them occupied
When traveling with children, always take a carry-on bag that's just for the kids! When I fly with my children, I pack snacks and toys to keep them entertained and distracted from the fact that we still have X amount of hours to be on the plane.
Good foods to take are sugar-free lollipops, raisins, pretzels, and fruit and veggies. My boys love the carrot sticks — but remember, due to security rules and regulations, you are unable to carry on any dipping sauces. (If you kids must have some dressing for veggie dipping, maybe you can find an airport restaurant to get some from once you pass security.) For more airplane snack ideas, look here.
Travel size games are a great choice for entertainment. (For some great airplane game suggestions, look here for some ideas!) Also take books, coloring books or puzzle books, and crayons and/or non-toxic, low-odor markers.
Your kids may like to watch a movie/TV show or listen to music (or even an audiobook), so bring along a laptop, tablet or smartphone for each child. (Provided it can still hold a charge well, this is a great time to get out one of your old phones.)
While we don't want our children to spend a lot of time playing video games, this is one time you want to make the exception! Be sure the batteries are well-charged, and that you have a pair of headphones for each child (and one to spare).
If they're feeling antsy from staying still, a trip to the airplane bathroom can also be diverting, and you might be able to walk them up and down the aisle. (When you reach the galley, a flight attendant may even offer him or her a cup of juice or bag of pretzels.)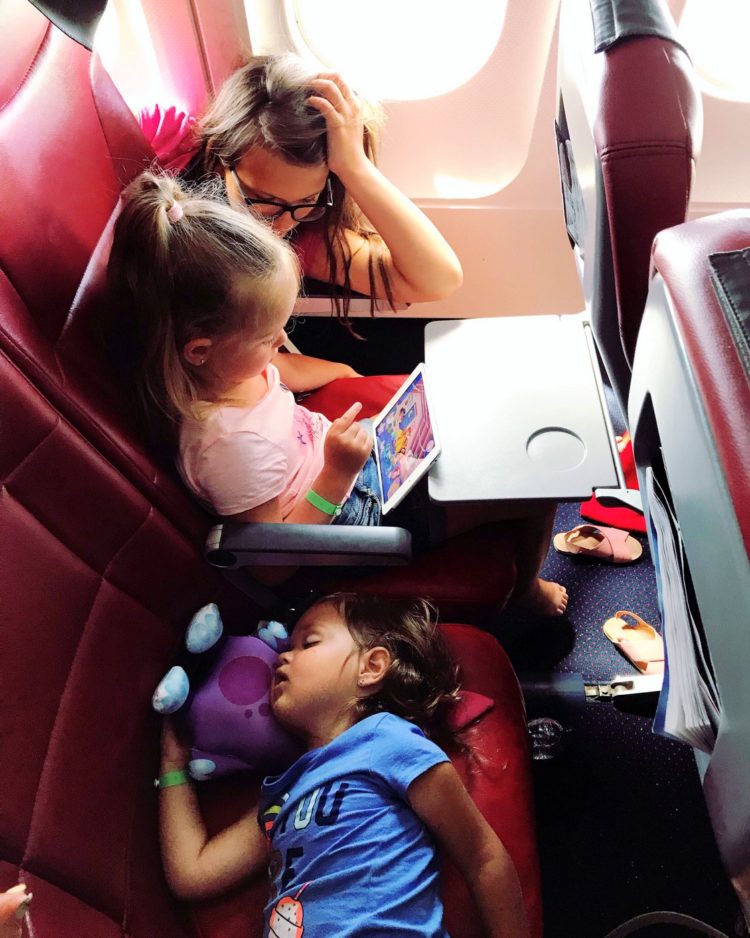 5. Change the rules
If your child becomes agitated and goes into tantrum mode, you cannot do what you may normally do at home — ignore it. This isn't a method you want to employ while you are in an enclosed space with a hundred other passengers.
Maybe you could keep some "surprises" in your travel bag in case such a situation arises: a new toy or book, some candy or a favorite special occasion snack, or anything unique and intriguing that might help you divert your child's attention. (Some toddlers might love the chance to try out a pacifier or bottle again, but you'll need to decide if that's a habit you're going to be willing to have to break again.)
Now, I'm not one to bribe my kids, but in polite society, sometimes there is just no other route. Not only is it annoying to others, but the noise might be interfering with someone's much-needed sleep, or making it hard for someone to deal with their own anxiety or stress.
And then there are the looks. If you have ever experienced this, then you know how it feels to have so many eyes on you that are glowering with that, "Shut that kid up now!" look.
If you have tried the diversions/surprises angle, telling them to stop in a firm manner, or consoling them to no avail, you may want to try to appeal to the other passengers. Announce kindly and apologetically that you are doing all you can do and that you are sorry for the disruption. Maybe you can even ask if someone has a suggestion for you.
You may be surprised how willing these strangers will be to help you out. Many of them know your pain– or can at least sympathize.
Ready, set, go!
For more current information about flying with children, check out the TSA's page about traveling with kids.
Good luck with your trip!