Finder's Free exists to help you
find out

what you want to know — or actually

find

whatever you're looking for.
In short, it's where
questions meet answers

.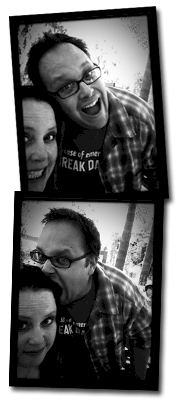 Through a combination of answers offered by our in-house researchers/writers (along with a few provided by generous others who have relevant information to share) our goal is to help answer your questions — the offbeat, the basic, the mysterious, the complex… and the ones you don't know who else to ask.
Co-founded by a husband and wife team — creative professionals who each have more than a decade and a half of online experience — FindersFree.com features a growing archive of researched answers from our editorial team. Our mission is to offer readers an intelligent and invaluable web resource with high-quality, relevant and thorough content.
We encourage everyone to be a part of the site! Ask a question or simply browse the Q&A already available. If you're interested in writing for FF, drop us a line! Likewise, if you have a suggestion for the site, just use our contact page to let us know.
Now go find what you're looking for!
– Nancy & Andy (aka MrsFF and MrFF)
---
[one_half]
About Nancy
President, Synchronista LLC
Nancy J Price co-founded SheKnows.com with her best friend in 1999, and until October 2011, served as the site's Executive Editor. In the midst of growing several award-winning websites over the past decade, she also was the editor-in-chief of two national print magazines, and continues to explore her love of entertainment by occasionally interviewing musicians and actors. A San Francisco Bay Area native, she now lives in Arizona with her four kids, husband, and more than half a ton of animals.[/one_half]
[one_half_last]
About Andy
Marketing Director, Synchronista LLC
Along with being a writer and internet geek, Andy Warycka is a graduate of Rochester Institute of Technology's photojournalism program. He has been photographing professionally for more than 15 years, and his past clients include professional sports teams, race teams and classic car owners. His portfolio also includes studio and on-site portraiture, as well as event photography. The father of one daughter, Andy was born and raised in upstate New York, but currently resides in perpetually-sunny Arizona.[/one_half_last]