How can you get an inexpensive wedding dress for less than $100?
I'm doing my whole wedding on a budget, and really want to save money where we can so we can have money for a down payment on a house. Any tips to help me get a nice but inexpensive wedding wedding dress?
---
Bargain brides
For any other life event, most women wouldn't consider for a moment spending upwards of a thousand bucks for a dress she would wear for only a few hours. But even girls who clip coupons or agonize about buying a $5 latte will happily drop hundreds of dollars (or more) on a wedding gown.
But whether it's a result of the economy, your own personal financial picture, or simply a healthy dose of common sense driving your desire to save money on a wedding dress, we have several different tips and tricks for you here!
K I S S for an inexpensive wedding dress
"Keep your gown simple, or even go vintage," says Mariana Leung, Founder & Editor of Ms Fabulous, as well as the design director of Weng Meng Design Studio in New York City. To give your dress a little personal flair, she says, you could "dress it up with a 'wow' accessory — a brightly-colored sash, an oversized headpiece."
Leung also says you can also save money by thinking a little outside the bridal dress box. "It doesn't have to be a 'wedding' gown, which will be cheaper." So think regular evening gowns and formalwear — even a perfect prom dress might fit the bill!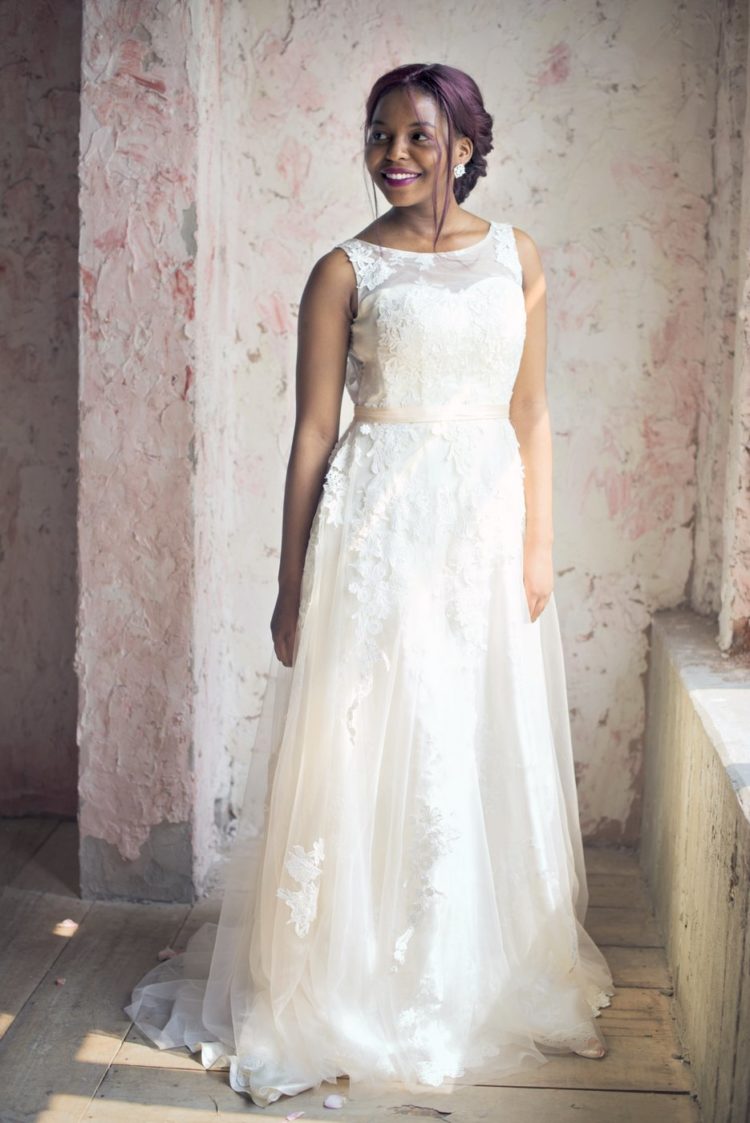 Consider secondhand
"Shop secondhand to find wedding dresses — new, old, vintage, antique. Not all are used," says San Francisco Bay Area-based Diana Tenes. "You can often find new dresses with tags still on, that were bought and never worn."
Her list of where to shop includes the following: thrift stores, consignment stores, resale shops, boutique thrift shops, antique stores, vintage stores, flea markets, garage sales, tag and rummage sales, craigslist.org, eBay, Etsy, etc.
Six more that we found: Borrowing Magnolia, Tradesy, Brides Against Breast Cancer, OnceWed.com, PreOwnedWeddingDresses.com and Bravo Bride.
Tenes, also the author of "90% Off — Every Day!" a guide to eco-friendly shopping, also says that you should feel great about shopping secondhand. "You save resources, help local, small business and give back to charities that raise funds to better peoples' and animals' lives, and provide training."
"I have had brides purchase gowns from thrift stores, or even find a seamstress to replicate a design of high-end gown," says wedding planner Tracy R French of The French Connection Events in San Antonio, Texas. "These are two great ways to save big bucks!"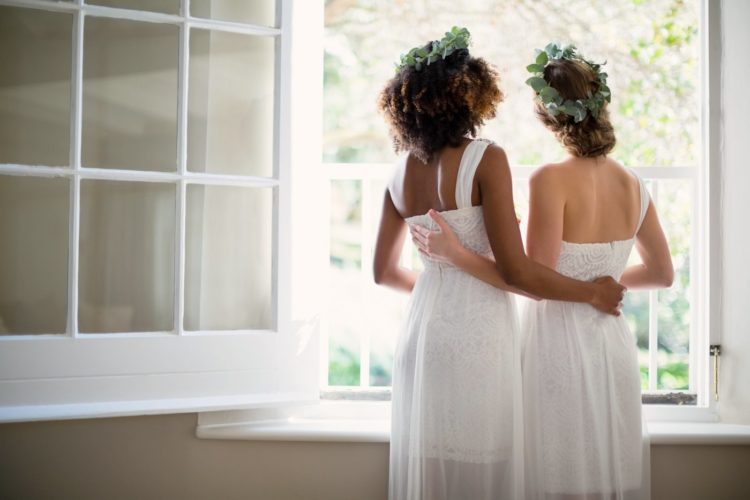 Something borrowed
How do the majority of celebrities get the high fashion clothes (and jewelry) they wear on the red carpet? They borrow them.
While top designers aren't as likely to dress you simply for the privilege of having you wear their styles, you can still get away without making a major purchase by renting your wedding dress, and the groom's suit or tux. Prices can range from around $100 on the low end to staggeringly vast sums for just a one-time rental.
"Rent your dress and tux — you're only wearing it once, and it's much more affordable," says Aimee Stephens of Las Vegas' Chapel of the Flowers. "I know that in Vegas, our gown and tux partners have a wide selection and are able to offer slight alterations to fit the bride and groom."
Most wedding dress rental companies operate on a local level, but here are a few to check out:
Go overseas to order a budget bridal gown
If you have plenty of time and are okay with not buying American, you might want to look abroad. "My fiance and I had already decided what our priorities for our wedding were, and spending thousands of dollars for a wedding dress wasn't on the list," says bride-to-be Vicky Penn Wu in Texas.
"I found a website where you can buy custom wedding gowns, made to your exact measurements and color specifications in a foreign country, for a fraction of what you would spend here."
Of course — and as the saying goes — there ain't no free lunch. There are tradeoffs, and if you want your overseas dress to be the way you expect it, you will probably have to do more work than point and click.
You can get some great tips from the savvy Renegade Bride site, written to make sure you're not disappointed with what you buy.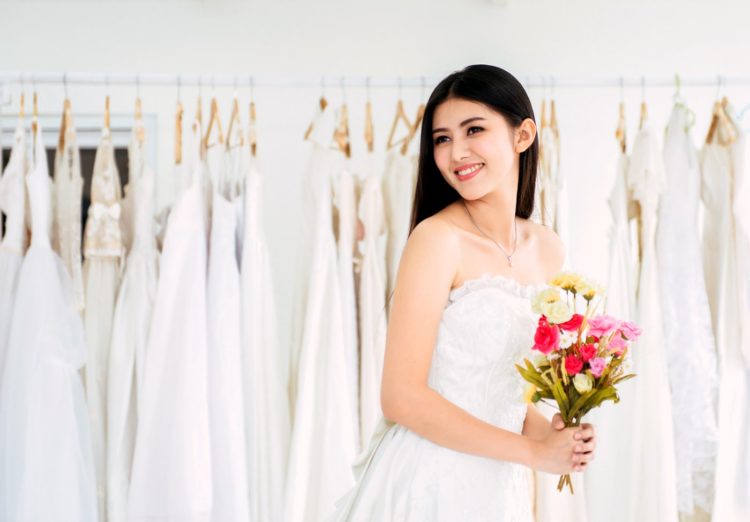 Along those same lines, Vicky Penn Wu had her own been there, done that tips to help you get what you want when ordering from afar:
1) Go to a wedding shop and try on multiple styles. Take photos of you in each shape of dress, this way you will have a visual reminder of what style types look best on you. This will help you with your selection.
2) Look for vendors that have as many of the following attributes as possible:
Free shipping, because shipping fees from overseas can add up. (Also keep in mind that if the item is over $200, you may also have to pay some customs fees.)
Have been in business/a member of the site for as long as possible.
Have had a higher number of transactions of items sold.
Have a high positive feedback rate — over 90%; if possible, 98% or better.
Have a good return policy. Some say returns only accepted 3 days after shipping. You won't even receive the dress in 3 days if it ships from overseas.
One particular website (dhgate.com) will show you how many of that specific item has sold. If they have sold five, and have positive reviews, that will tell you much more about that specific dress than someone who only has a photo, but have not actually produced the dress. I look for ones that have sold more than one of the specific dress, and who are showing photos of the dress that are not with supermodels posing. Some even have Asian models, which in my mind increases the likelihood that those are dresses they've actually produced, since it is an Asian company.
3) Communicate with the seller before making your purchase. Tell them your sizes and color choices, and verify the price. Just like with any company, you want to make sure there are no hidden fees. It is, however, common for them to charge more than the posted price for "plus" size dresses, but it shouldn't be more than $20 to $30 or so.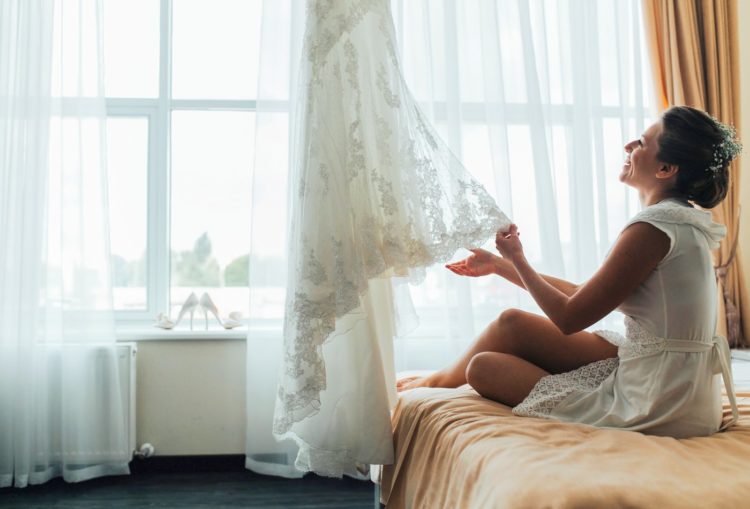 4) Measure carefully. Send them as many measurements as possible. Don't hold the measuring tape completely tight as you measure — it's better for the dress to be a bit too big and need to take something in, rather than needing to let it out.
5) Order in plenty of time to account for overseas shipping and leaving time for any alterations or returns that might be needed. If you've followed the other tips it shouldn't be an issue — but you want to leave enough time to account for all contingencies.
6) If you've received your dress and you love it, go back in and post a positive rating and recommendation for the seller! If you can't afford an American-made wedding dress, at least you will be helping other brides know which vendors are reputable, and helping increase the standard of living for people in another part of the world.
"I received my dress about two weeks ago, and it fits perfectly — like it was made for me… which it was!" Wu says. "It's beautiful, very well-made… has beautiful beading, and sequin sparkles under the tulle skirt."
And the price? "The total cost was $120 — a fraction of what the ones that I tried on in the stores were selling for — although there were many selections that I saw as low as $50 online."
Here are some overseas wedding dress suppliers (but of course, a listing here is in no way an endorsement):
Cinderella for a day
Of course, always remember that the very best wedding dress is the one that makes you feel fantastic and amazing on your special day. But there's a lot more that goes into finding that just right bridal gown than what's printed on the price tag.
Good luck, and best wishes for a long and happy marriage!